Make room for a better way to work
Posted 2 years ago by Mia Brown
Imagine a world where you can shape and reshape your workspace as easily as playing with Lego bricks…

With  ROOM's series of modular, smart architecture, that childhood dream just came true. 
This month, we were thrilled to announce our latest partnership with this smart workplace solution company.
Get a ROOM
ROOM are recreating the modern workplace with simple, seamless, and sustainable solutions.
Their mission is to make room for people. They believe in giving you the space you need to do genuinely inspired work.
Their range of modular, flexible furniture allows teams to shape and reshape their work environment with ease, while optimising space efficiency. Their prefab solutions are cost-effective, quick and easy to assemble, and portable. You can take your room with you when you move out.
Their products include the Phone Booth, The Meeting Room, The Open Meeting Room, and the Focus Room – catering for all deep focus and open collaboration needs. They are soundproofed, plug and play ready, and circular by design.
Each modular product is built with over 1,000 recycled plastic bottles, used as soundproofing material. To date, they have repurposed nearly 17 million bottles and counting. Smart and sustainable. Win-win.
In an established industry that's ripe for change, ROOM is an agile, creative innovator. Their beautifully designed smart solutions are built to evolve with a dynamic, ever-changing workspace.
And that's why we love them.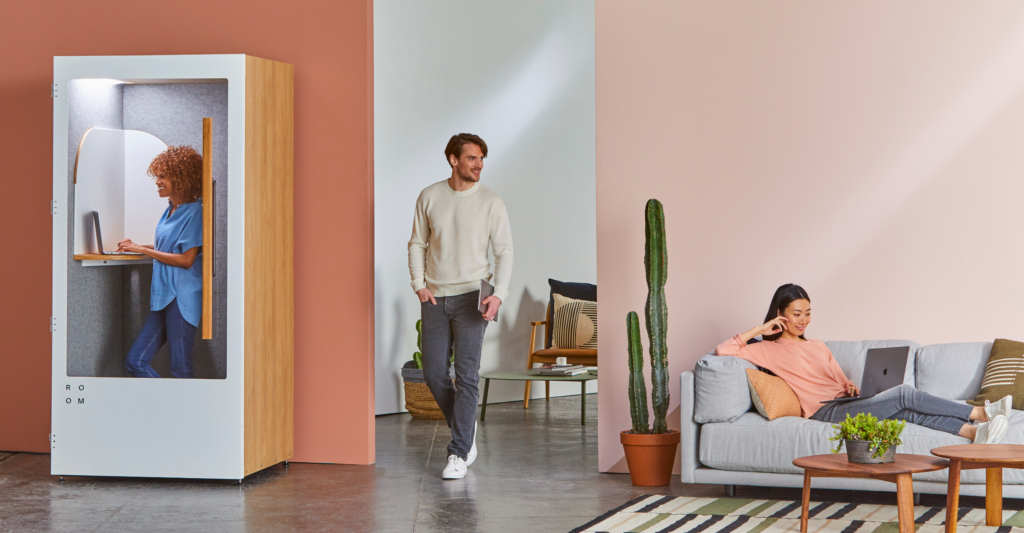 Smart partnership
At Switched on Space, we're obsessed with transforming buildings into smart spaces. Whether that be through prop-tech, sensor technology, acoustic baffles, biophilia, or modular furniture. We don't need to limit. The common denominator is whether the solution makes an indoor space more liveable and enjoyable. And whether it creates a smarter, more human way of working.
We're buzzed to have ROOM on board our quest to curate the smartest of spaces. Together, we're supporting businesses in creating tomorrow's generation of healthy, productive, and fun workplaces.
Do you want help to create a flexible, inspiring, and efficient work environment? Talk to Switched on Space about how ROOM can work for you.