6 ways to ensure a safe return to university
Posted 3 years ago by Switched On Space
University is known for many things, but social distance isn't one. Students like to party, meet up, go out. The very nature of university life is designed to be a convergence of people and ideas, of culture and diversity. University brings people together. However, universities now face a complex problem: how can they safely reopen campuses in the age of COVID-19?
Popular areas on campus present vulnerability in even the strictest safety measures a university can enact. Namely, dining halls and libraries. Students descend on these areas in droves. Hundreds of people flow in and out of these buildings multiple times a day. That kind of foot traffic makes overcrowding a simple fact of life. Waiting in line at the taco bar just means it's Tuesday and you don't want to miss the carnitas. In the library, students stake out tables and lounge chairs like cars in a packed parking just waiting for someone to leave.
Universities around the country are drawing up extensive plans for how to bring students back to school safely. We're going to dive into some of the safety measures that will help keep your school community safe and reassure families that their students are being taken care of.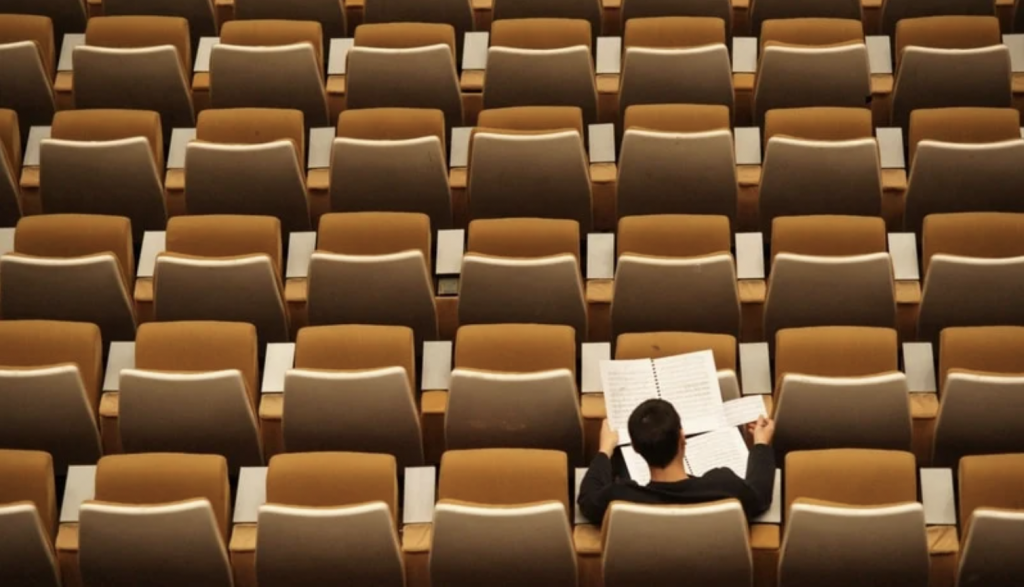 Data & capacity
Universities should identify the high traffic areas on campus and ensure that capacity limits are set and adhered to. Just like grocery stores and restaurants, it's important to reduce the total number of bodies present in an indoor space. This is particularly important because the risk of transmission indoors is 19 times higher than outside. Indoor spaces account for the vast majority of transmissions and, unfortunately, most education (especially in the winter) is conducted inside.
Consider removing a number of tables and chairs from public areas inside the dining halls and libraries. Paring down the number of available seating options and setting a strict capacity limit will help you avoid overcrowding at meal-times and midterms.
Real-time occupancy data has become crucial to helping universities manage capacity limits and monitor foot traffic in vulnerable areas. Universities use this data to alert staff when limits are reached and redirect students to additional on-campus dining options.
Self-regulation
Universities are aiming to empower students to self-regulate on campus. There's simply no way for administrators, faculty, and staff to continuously monitor every student's movement across campus. It's crucial that universities set up systems that enable students to look out for themselves and their friends. Students should know when areas have most recently been sanitized and how many people are currently in any of the various dining facilities on campus.
With accurate data and open communication, universities can provide students the information they need to make good choices. Setting up these systems will also convey to students and families that public health is a communal effort. Schools can use university mobile apps and public data displays to indicate when areas have been cleaned and how many people are currently inside certain buildings and rooms.
The success of any effort to quell the virus on campuses depends on student behaviour. Universities have to influence how students navigate campus amenities, track their own health, and interact with each other. This means that whatever measures universities put into place need to be clearly communicated and easy to follow.
One-way flow & clear signage
Many higher education establishments like Vanderbilt University in the United States have developed all new signage and visual language to indicate how to safely navigate campus. These efforts help students self-regulate and provide actionable methods to avoid person-to-person transmission of the virus. Setting up one-way traffic flow through public areas, particularly indoors, is a great way to manage crowds. If a dining hall has two entrances, consider directing students to use one for entry and one for exit. This way, you reduce the instances of crossing traffic and cluttered entryways.
Other signage serves as a reminder of good hygiene and health practices. Wash hands regularly, wear face coverings, maintain 6ft between people, limit group activities. Schools should over-communicate policy and reassure their communities that proper measures need to be taken to keep everyone healthy.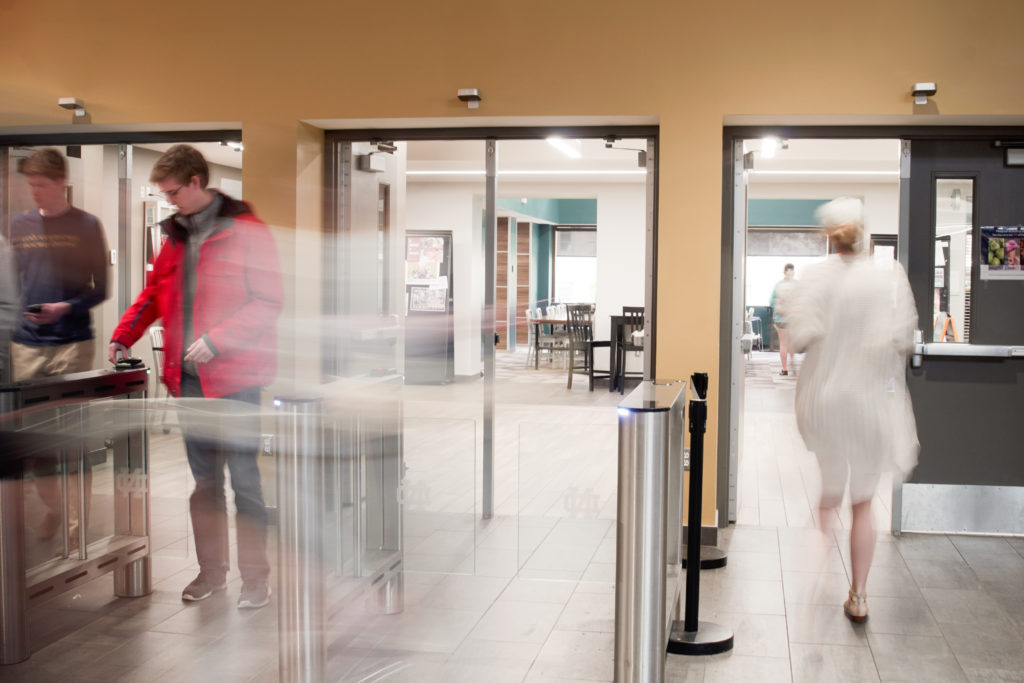 Screenings & questionnaires
Some universities in the States required that all returning students be screened for the virus or fill out questionnaires about their recent health history. While it may initially sound draconian, these schools are dead-set on ensuring communal to the best of their abilities. The University of Florida, for example, mandated that all students take a COVID-19 screening test prior to moving back into dorms or on-campus apartments. They've set up testing locations through their UF Health program and require that students take the test at one of the school-run facilities.
Students who test negative were allowed to proceed with their move-in process and resume classes. Students that test positive will have to quarantine and retake the test to ensure they are free of the virus.
The University of Florida has done a particularly good job at framing the problem as a communal one. Students and faculty who are returning to campus are pledging a commitment to protecting their peers and working toward the greater good of public health. This experiment only works with community buy-in.
Multiple learning environments
Many universities are coordinating multiple learning environments. This means that students may be able to opt for a fully remote term/semester or a hybrid of in-person and online classes. Offering students and families this choice helps balance the worry of getting sick and missing another term/semester of coursework. Students should be able to continue their education without risking their own health and safety in order to do so.
Additionally, this hybrid infrastructure allows schools to mitigate the spread of the virus in the event that students start testing positive during in-person classes. Having a comprehensive remote learning platform affords students the ability to stay in their dorms and quarantine for two weeks after they test positive for COVID-19. They can stay up-to-date on assignments, readings, and lectures, while protecting their fellow students who are still physically attending classes.
Protect privacy
In times of crisis, it may be tempting to institute technologies and processes that protect student health but ultimately sacrifice privacy. As much as possible, schools should prioritise student privacy. Asking simple if/then questions about new policies should help identify which are effective and which are invasive. For example, if students are asked to fill out daily health self-check questionnaires, then where does that data go and who sees it? Students and families may have reasonable objections about how public their health data becomes.
The same goes for on-campus social distance monitoring. If a university decides to install cameras all over campus to track crowds, then how will that new constant surveillance affect student trust in the organization and general comfort on campus? Students likely don't want to be watched while studying in the library or working out in the gym.
Creating a successful public effort to beat this virus and get back to campus relies on fostering a community of trust, action, and communication. Students and families need to trust that universities are making every effort to ensure a safe, healthy, and productive learning environment. Schools need to trust that students will self-regulate and follow the necessary procedures. Through clear signage, mobile applications, and accurate data, universities can communicate their plans to their student body and cultivate a community of action.